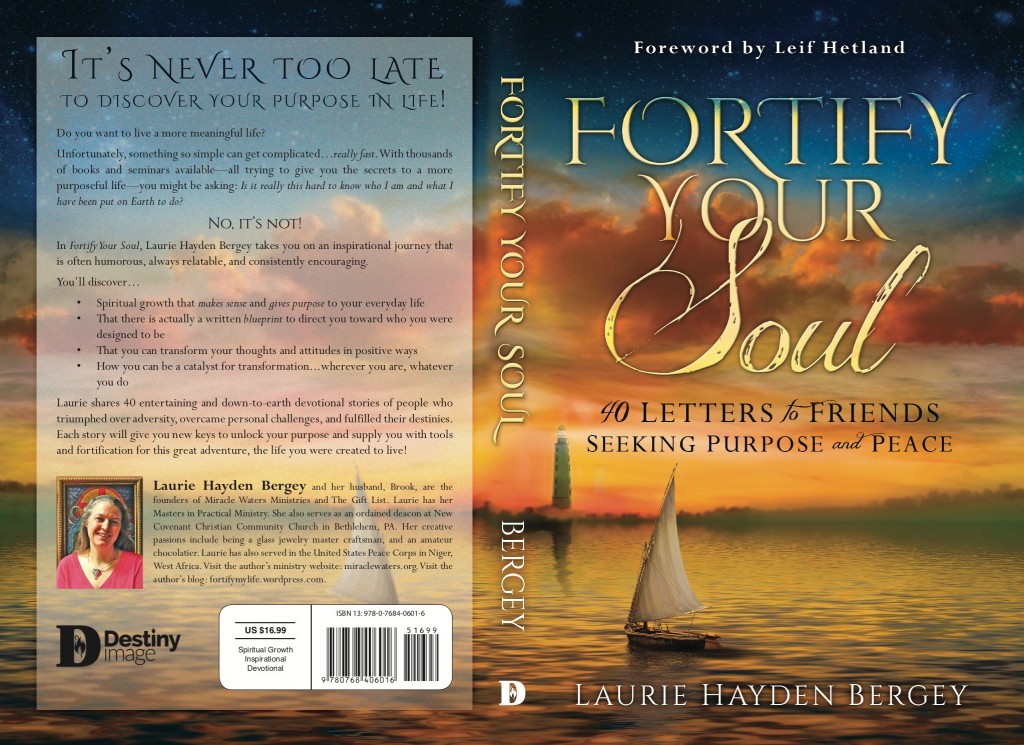 My book is coming off the press within the next few weeks~! Here is a peek at the cover:
I am very excited~! I can't wait to hold the book in my hands~!
To keep up to date with news about the book, follow this link:
Fortifymylife.com Book Updates
In case you have trouble reading the cover, the following is the text from the back of the book:
IT'S NEVER TOO LATE TO DISCOVER YOUR PURPOSE IN LIFE
Do you want to live a more meaningful life?
Unfortunately, something so simple can get complicated…really fast. With thousands of books and seminars available—all trying to give you the secrets to a more purposeful life—you might be asking: Is it really this hard to know who I am and what I have been put on Earth to do?
No, it's not!
In Fortify Your Soul, Laurie Hayden Bergey takes you on an inspirational journey that is often humorous, always relatable, and consistently encouraging.
You'll discover…
• Spiritual growth that makes sense and gives purpose to your everyday life
• That there is actually a written blueprint to direct you toward who you were designed to be
• That you can transform your thoughts and attitudes in positive ways
• How you can be a catalyst for transformation…wherever you are, whatever you do
Laurie shares 40 entertaining and down-to-earth devotional stories of people who triumphed over adversity, overcame personal challenges, and fulfilled their destinies. Each story will give you new keys to unlock your purpose and supply you with tools and fortification for this great adventure, the life you were created to live!
Laurie Hayden Bergey and her husband, Brook, are the founders of Miracle Waters Ministries and The Gift List. Laurie has her Masters in Practical Ministry. She also serves as an ordained deacon at New Covenant Christian Community Church in Bethlehem, PA. Her creative passions include being a glass jewelry master craftsman, and an amateur chocolatier. Laurie has also served in the United States Peace Corps in Niger, West Africa. Visit the author's ministry website: miraclewaters.org. Visit the author's blog: fortifymylife.wordpress.com

.